I just sold off my entire PAY holdings to buy BAT tokens. My average cost for PAY tokens was around $0.90 and I bought 502 of them (current price is around $0.30). I had around 200 initially but added on another 300 late last year in Dec 2018. The reason is that the company is issuing a 1-to-1 new TenX token for every PAY token you hold. TenX token is a reward token that would be issued out in Q2 2019 and rewards (in the form of PAY) are expected to come in Q3 2019. The snapshot has already happened, meaning that I would receive 502 TenX tokens in a few months time, regardless of whether I sold my PAY tokens or not. You can read more about TenX token from their official blog post.
PAY will be the reward we receive starting from Q3 2019 and the payout will be made every quarterly depending on the company's financial performance. My cost price for getting 502 PAY is around $458, which means I would need to get around $23 annually for a yield on cost of 5%. I will write a new post about TenX when I receive the new tokens and when the first rewards payout is distributed. Everything will happen in 2019, so stay tuned.
Who is TenX?
TenX is actually a crypto card company and their goal is simply to allow cryptocurrencies to be spent anywhere in the world. Here is actually a video of my first transaction buying Mac in bitcoin a few months back.
The experience was pretty cool, liberating and surreal I would say. You got to try it for yourself. For the first time in history, products and services can be bought with a currency that is not controlled by ANYONE or any intermediary. There won't be bank bailouts, political issues, government failures, quantitative easing and that sort of stuff. The note in your wallet is basically an IOU, something the bank owes you, but the BTC in your wallet is solely yours and nobody can take it away from you, as long as you keep your private key safe.
We don't really face all these problems in a first-world developed country, but the people who really need this are those from countries such as Venezuela. The country faces corruption and their notes are denominated in millions due to hyper-inflation. These worthless paper money are being dumped everywhere on the streets. I would not go too in-depth about this and you can read more about the inflationary impact of money from my previous post.
If you are interested, you can order a card from Tenx as the cards are available in Singapore, Malaysia, Hong Kong, Australia, New Zealand and recently Thailand. They are rolling out the cards in other regions progressively and their banking license in Europe is still in the process of happening. The orders for their Tenx card is insane. They are growing at around 10-15% every week I think.
Reason for Selling PAY Tokens
I sold off my PAY tokens because it was originally a reward token that gives out rewards from the pool of transaction fees when people spend using TenX card to all PAY token holders. However, they run into regulatory issues with this as "Securities Token" is an extremely sensitive topic in the regulatory arena. Hence, the TenX token was created with an added feature known as the ERC-1462. The rationale behind this is simply for compliance reasons; to comply with securities regulations and legal enforceability.
Utility of PAY Tokens
Now that TenX token has replaced the original utility of PAY as a "reward token", you might ask what's the function of PAY tokens now. This is a good question and the answer is: "nobody knows yet". The team behind TenX is currently working on the utility of PAY tokens and no conclusive information is available at the moment. However, some of the possible ideas that were suggested include things like rebate fees, lower transaction fees when spending crypto or other specific uses for TenX services.
Since TenX token has already replaced PAY token as the reward paying coin, then it does not make sense for me to keep PAY tokens anymore. I am more interested in holding and buying the goose rather than keeping the eggs. Unless there is a strong utility function or incentive for me to hold the eggs, I really don't see the rationale to hold my PAY tokens in the short-term. My investment philosophy in crypto is towards staking and rewards tokens that distribute some form of dividends one way or another. I believe the pool of money would work harder for me if I allocate it somewhere else.
What is Basic Attention Token (BAT) Token?
And where did I put it? I reallocated all my PAY tokens towards BAT tokens. So what is BAT? It's not some kind of scammy, bs project. I don't invest for the sake of quick random gains. I am actually grateful for the crypto winter as a "massive cleansing" is needed to drive out all the frauds and shitty projects that fail to make the cut. Those who survived will rebound even more resiliently and I am really looking forward to seeing the progress and adoption coming in. As the saying goes, "I'd rather lose money in crypto and end up being wrong than potentially miss the greatest investment opportunity of our generation."
In my opinion, there are 2 things that would massively change in the next 5-10 years. One is China and the second is Blockchain. The latter has already become the most commonly discussed topics in World Economic Forums and these large giant monopolies are getting into the game. They have to because technological disruption is inevitable. You see Facebook, Tencent, Samsung, Microsoft, PwC, Deloitte, IBM, Walmart, Maersk, JP Morgan, Fidelity, Bakkt and the list goes on. They are all coming in. It's only a matter of time. To find out more about institution money in crypto or how I got started, you can read about it in detail from my previous post.
Anyway, let's cut the chase short.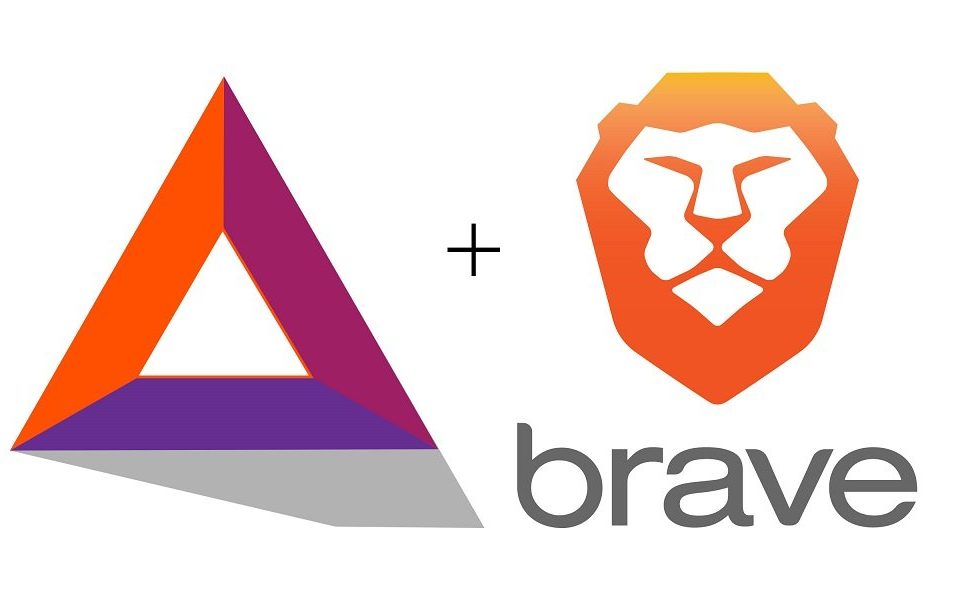 So what's BAT? To understand BAT, we must first understand the Brave Browser. BAT and Brave Browser work hand-in-hand and they are both founded by Brendan Eich, the person who created Javascript and Mozilla Firefox. I shall let the father of Javascript do the introduction rather than me writing all about it.
Basically, Brave is a platform and BAT is a utility token. Brave is trying to solve a whole lot of deeply rooted complex issues in the US$ 100 billion digital advertising industry. Here is a couple of them.
Problems of the Current Advertising Model
Problem #1: Our browsers are filled with countless trackers and Ads that are annoying and invasive. I am sure you have experienced the case where you researched something, and the ads related to what you are reading on started popping up everywhere the next moment. These are all run by trackers and the internet is attempting to build a digital profile about you so that they can sell you stuff.
Problem #2: Publishers are earning pennies. Well-known famous bloggers in Singapore can vouch to this. They don't earn much from ad revenues on their sites. The problem with our current digital advertising industry is it is run by monopoly companies such as Google Ad sense and Facebook Ads. They take a huge cut of revenue (73%) from the publishers because they can. They have earned monopoly status.
Problem #3: There is a huge load of middlemen and intermediaries between the marketer and publisher. For a single ad unit to pass through to the publisher, it has to go through all these data aggregators, data management platform, data suppliers, analytics, verification and the list goes on. Money is being leaked out to all these central intermediaries and it adds up to a high transaction cost to brand ad campaigns.
Problem #4: Users often use ad blockers and over 600 million users and phones run ad-blocking to block off unwanted annoying ads. The result of this affects advertisers and publishers as their "ads" are not being directed towards users. Targetting is poor and users are ignoring ads.
Problem #5: The whole advertising ecosystem is plagued with frauds, malware, ransom-ware and some marketers are being fooled by bogus websites. There are tons of fraud bots going around the internet and our browser is vulnerable to all these hacks & viruses.
How can Brave & BAT solve the problems?
I will not go too in-depth with the elaborations as this post is meant to document the recent transaction I made on my crypto portfolio. Basically, Brave is a browser that is designed to block off ALL trackers and Ads. This result in a browser that is faster, more secure and more private. The BAT token is a utility token for 3 groups of people: Users, Publishers and Advertisers. Users are being paid with BAT tokens to view ads if they choose to opt-in for the option to view ads. Advertisers are required to purchase BAT tokens to advertise. Publishers are being paid based on the attention time users spent on the sites. Users can choose to make micro-contributions to tip their favourite content creators and websites. Publishers can offer premium content to users and payments can be in the form of BAT tokens. To read more about how the Brave Browser and BAT tokens work, you can read up about it over here.
How does it look like?
Here is an example of using the Brave browser. I have been using Brave for about 1 month and have since replaced Brave as the default browser over Google Chrome. You can see the number of Ads and trackers that are being blocked. Youtube and FB have a ton of all these trackers and ads. It's really surprising to see the statistics. Not only that, the browser load time is faster, more secure and the best part? You are being PAID to view Ads. I don't see any reasons not to like Brave. They actually did a test to compare between Chrome, Brave and Firefox. The results are 2x faster in desktop and 2-8x faster on mobile.
It would look something like this, where you can opt-in to receive BAT rewards for viewing Ads. If you don't want these annoying Ads, you can disable the Brave Rewards function and no ads would pop up on your screen. Unfortunately, Ads are currently not available in Singapore yet, but they will be rolling out to the whole world by end of 2019. Countries such as the US, Canada, UK, France and Germany are already using it now. This feature was just released 3 weeks ago on 25 April 2019. People from these countries have already received their first payout of BAT tokens just from viewing ads on their browsers as of 8 May 2019. I would write a new post on this when ads are available in Singapore. Can't wait for it.
Are you a Content Creator, Blogger, Youtuber, Website Owner?
If you fit into any of the above categories. Good news for you! Content creators form an integral part of the entire ecosystem and there is a huge opportunity for you to earn BAT tokens in the future. You are being paid for the content that you publish on the web. The more people visit your sites, the more time they spent on your sites, the more revenue you earn from their attention. Essentially, you are being paid by your audience based on the attention they spent on your site rather than relying on menial ad revenues. I would highly recommend that you sign up as a verified publisher on their web page. I have already verified my website. *This is not an affiliate link and I don't earn any commissions. It's really up to you whether you want to be a verified publisher and earn BAT tokens in the future.
Why BAT Tokens?
The reason why I replaced PAY with BAT into my portfolio is because of the following charts which I am about to show you now.
The estimated download for Brave browser on Android is 25 million and an estimated 2 million downloads are being hit every month. The growth and adoption of Brave browser are turning parabolic as you can see from the charts above.
What Drives the Value of BAT Tokens?
Why is that so? The entire value of Brave and BAT comes from the network effect. It's just like Grab, Uber or Airbnb. The more people use it, the more valuable the company will be. It starts with getting publishers onboard. After which, YouTubers, bloggers and publishers would spread the word out to their thousands and millions of subscribers and followers because they can earn 5 BAT tokens for every active download. There is an incentive for users to use Brave browser because it's ad-free, faster, more secure and they are being PAID to view ads. This positive loop cycle compounds over time and it would eventually lead to an exponential growth of adoption in a short span of time. Do note that we are just talking about countries like the US, Canada, UK, France and Germany, when ads are available in other regions, especially when it comes to Asia, this thing will explode.
So why does having more people using Brave browser increase the value of BAT tokens? Well, this is because as mentioned earlier, advertisers have to use BAT tokens to advertise. If I told you that there are 500 million users on Brave and your ads are targeted to users based on their profile match and they are willing to view your ads voluntarily because they are being paid to do so, would you be interested in it? Brendan Eich has confirmed that there are 1,300 advertisers on Brave ads which are on the waiting list right now. When the floodgate opens, it would be interesting to see how the market reacts to it.
Dethroning Google's Ad Business?
If you are vested on Alphabet or Google, this is something you should watch out real close. Their advertising revenue takes up a huge chunk of the group's total revenue and its recent Q1 2019 earnings have declined due to lower contribution from ads. The switching cost between browsers is practically zero. If a growing number of users, publishers and advertisers are migrating from Google Chrome to Brave Browser, which is already happening now, Google's advertising business would inevitably take a hit and this is perhaps the essence of what blockchain is all about. To decentralise monopolistic power and transfer them to individual users.
Potential Risks and Competition
The biggest risk just as in any other crypto companies is always regulations. Regulation is always a pain in the ass, for the right reasons. But an overly-regulated country can stifle innovation and development of new technologies. When crypto first took off, regulators couldn't be bothered as it does not pose a systematic risk to their financial systems. But the technology has grown so fast that it is too big to ignore. Hence, regulators have to play catch up in understanding the benefits and risks of the technology. Tax is another big issue. Because of this time lag between the early adopters and regulators, the whole area is still developing and it's pretty much in the grey area. It reminds me of the quote by Mahatma Gandhi.
"First they ignore you, then they laugh at you, then they fight you, then you win."
Facebook is rumoured to be launching their own FB coin soon and they have recently removed their ban on cryptocurrency ads. There might be competition from the monopolies if they ever decided to go into crypto. But the good thing is that Brave has already gotten the first-mover advantage.
Using Kyber Swap to swap PAY to BAT
For the above reasons and logical reasoning, I have concluded to myself that PAY has no clear direction on the utility of its tokens (at the moment) and it does not make sense for me to hold them. Furthermore, I am more interested in the TenX tokens (goose) rather than the PAY tokens (eggs). BAT, on the other hand, is showing promising potentials and I can see how value is being derived in the long-term. As such, I have decided to swap ALL my PAY tokens into BAT tokens.
In the past, whenever we want to exchange one altcoin for another, the process would be to transfer your alts into an exchange, sell it for BTC, use that BTC to buy the other alt and transfer them back to your wallet. This whole process incurs gas fees, withdrawal fees, exchange rate fluctuations and the transactions can take hours to be verified if the network is congested. It is slow, inefficient and costly.
Fortunately, Kyber Network has introduced an innovative application tool known as the Kyber Swap. All you have to do is to connect your Metamask and swap your tokens instantly in a decentralized manner. Decentralized meaning that you are exchanging your tokens with the other party directly without going through a middleman such as an exchange. The liquidity providers are usually the market makers, token holders and token projects. The best part? Whenever you are doing a token-to-token swap, Kyber network will process the BEST conversion rate from all the reserves so that the most competitive rate is being carried out.
How does it Work?
To illustrate, I have taken some screenshots on the whole process, which takes probably 30 seconds at most?
That's it. Just like this. I have converted 502 of my PAY tokens into 340 of BAT tokens. There is no need to sell for BTC transfer around exchanges and all these hassles.
Timing Entry on BAT (Technical Analysis)
I have actually been eyeing on BAT for quite some time. But getting in at the right price of an asset is equally important. Based on the following technical analysis charts, I foresee the price will continue to fall with a decent probability.
Prices are making lower highs, short-term traders are unloading BAT to other alt-coins as the hype is over. Support line is likely to break downwards.
After prices break downwards, the next price action I observed was Bearish Engulfing. That huge red candle stick over there indicates selling pressure is strong and prices are likely to continue to slide downwards.
I have no idea how low would it go, it continues falling downwards until it hit the 150-day moving average line. This is where the big boys come in and a huge fat green candle pops up. It is at this moment when I got in. Because the sellers have already exhausted themselves and the long-term investors that are in for the project are buying in. So where are we now?
After that huge green candlestick, Prices pull back to the 150 MA again. This is because bitcoin rallied and surged ahead of the resistance zone. It was completely unexpected and that has caused BAT to fall slightly again. We will see how it goes, but I think those short-term traders have already gotten out BAT, so selling has pretty much stabilized.
Conclusion
In conclusion, I can't guarantee that I made the right choice. After all, I am selling PAY when it's at its all-time low and buying BAT when it's near its all-time high. My decision is based on the logical reasoning that I have made. Nevertheless, both TenX and BAT/Brave are equally solid projects which are growing at a rapid pace. I am waiting for TenX to release their TenX tokens by Q2 2019 and ads to be available in Singapore. When TenX tokens are issued out, PAY would probably spike up and all the short-term traders would get in. There is an opportunity to do an arbitrage here, but I wouldn't take that risk.
I actually received my first payout in BAT when some random stranger decided to tip me. If you are interested in trying out the new Brave browser, here is the download link for it. Do give it a shot, play around with it and if you like it, remember to set the browser as your default.
The loading page is much FASTER and your browser will have ZERO ads and trackers. Furthermore, when ads are available in Singapore, you will be getting PAID to view ads in the future. The payout will be made to you on the 8th of May every month. *There is a referral fee of 5 BAT tokens for every active download (using the browser for at least 30 days) If you are a blogger or you own a website, do consider this and I would really recommend you to verify your website. It is a potential alternative source of income for yourself. Click here to find out more if you are a content creator.
This is really the next generation of internet browser and it really makes us rethink the way users, advertisers and publishers interact in the digital advertising industry. The current rate of growth is exponential and I do see this taking off in the long-term, so sit tight! Revolution is coming. Keep a lookout for the next post when TenX tokens are distributed and when ads are available in Singapore.